We take a closer look at the well known Mocal Sandwich Plate. This article confirms the dimensions and how the bypass works so you can check if it is right for you. This oil control range is diverse and extensive, it is recognised the world over and has proven to be versatile, reliable and highly regarded.
The sandwich plate fits directly above the oil filter on your engine. It has an extension bolt that fits to the spigot on your engine where the oil filter had fitted. The oil filter then fits to the underside of the plate. This allows your engine to circulate oil away from the engine for cooling.
In this article we cover:
How Does It Work?
Dimensions
Hose Adaptors
Fixing Bolts
How Does It Work?
The 'Thermostatic' part of the name refers to the operation of an internal bypass. It is the only difference between this and a regular adaptor. The mechanism has an internal opening that allows to oil to avoid being diverted away from the engine before the oil is up to temperature – this is called a Bypass. Once at working temperature the bypass is closed automatically by a pellet. The heat of the oil causes the pellet to expand and in doing so it closes off the bypass.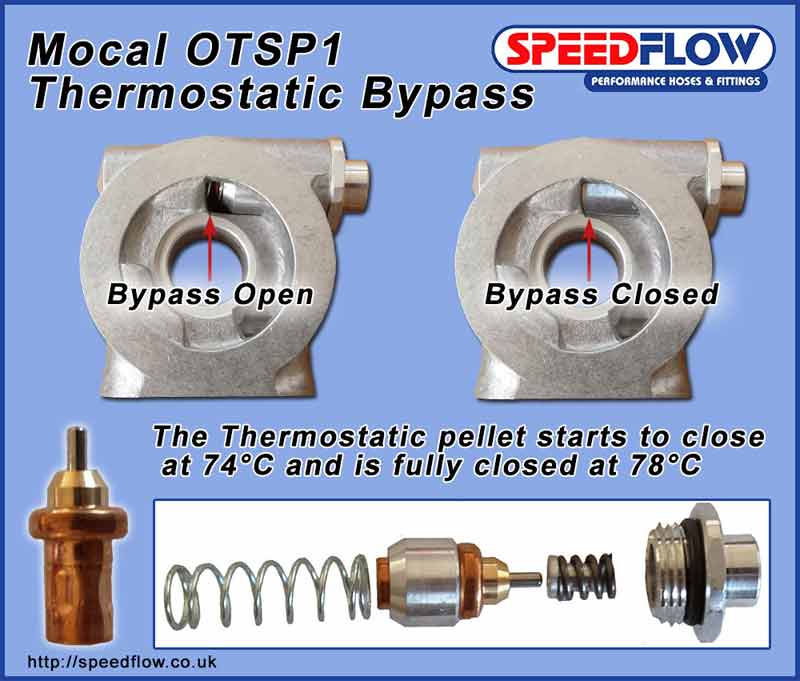 Temperature range
1.The thermostat has an operational range that is identified by the temperature it starts to close the bypass and the temperature at which the bypass is fully closed. As standard this is 74°C to 78°C. It is possible to change the wax pellet for a version that closes at 80°C.
Mocal OTSP1 Thermostatic Sandwich Plate Dimensions
Centre Fixing Bolts
There is a range of centre bolts that cover all the applications and vehicles that it is possible to fit a plate to. You need to know what thread your engine requires. The options available include:
3/4 UNF
5/8 UNF
13/16 UNF
M16
M18
M20
Thank you for reading this page, please consider sharing it with others.